10 Restaurants Every Marlboro Resident MUST Try
The restaurant industry tends to thrive during the summer months. This is due in part to an increase in tourism and warmer temperatures typically encouraging locals and visitors to venture outdoors. What's more, people are eating out today more than ever as the new generation favors the convenience of prepared food rather than cooking at home. Marlboro is no exception to this rule, and thankfully the diverse, delicious dining opportunities in and around Marlboro provide many options for a night out. There are so many locations to chose from, but in the interest of helping you all out, I have compiled a list of ten restaurants which I believe every Marlboro resident MUST try in and around our town.
*Scores taken from Google
1. Osteria Cucina Rustica (4.2/5)
Osteria Cucina Rustica is an upscale Italian eatery which I love for its old-world decorations and real authentic Italian Cuisine. "Osteria" in Italian means "a place where the owner hosts his guests", and they do not disappoint. The warm atmosphere and impeccable service puts this family eatery at the top of my list.
Recommendation: Chicken Milanese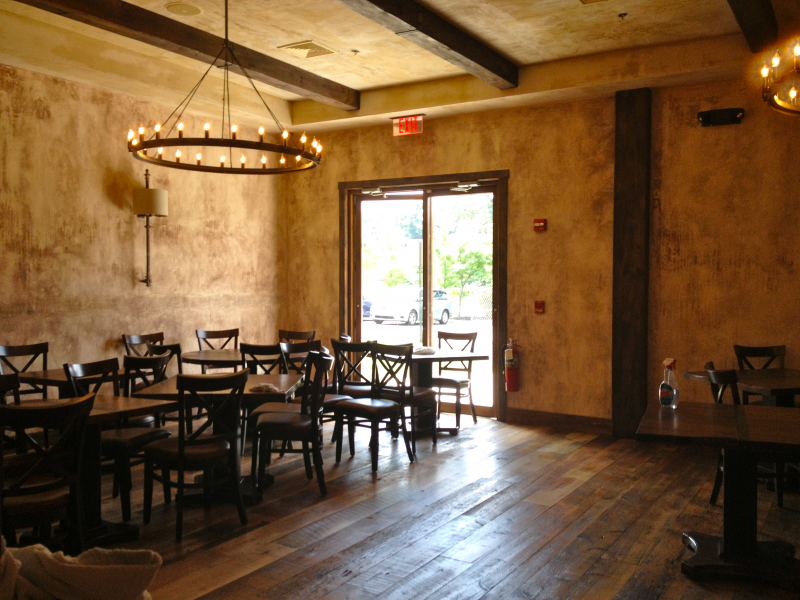 2. Cuzin's Seafood Clam Bar (4.2/5)
The Best Clam Bar in New Jersey, or so they say! Cuzin's ranks high on my list of restaurants in Marlboro to try out not only because of the excellent selection of seafood, but also the gorgeous new interior. Ever since the renovation a few months it's been nearly impossible to get a reservation, I'd definitely recommend calling ahead.
Recommendation: Asian Calamari

3. Crown Palace (3.9/5)
Crown Palace is a longstanding town favorite and received votes as the Best Chinese Restaurant in Monmouth-Ocean. Their lunch menu is great for business luncheons; the lunch specials provide large portions of excellent food.
Recommendation: Hong Kong Dim Sum
4. Ganga Asian Bistro (4.3/5)
Ganga Asian Bistro is a great stop for authentic pan-asian cuisine and sushi just outside of Marlboro. As quoted on their website "when one enters Ganga they are immediately whisked away to a vacation-like journey to South East Asia." I was definitely whisked away by their excellent menu options and new-age aesthetics.
Recommendation: Crazy Friday Sushi Roll

5. Over Easy Kitchen (4.3/5)
Over Easy Kitchen is one of the hidden gems of Marlboro, probably the coziest breakfast nook in town. A trendy new brunch location, they specialize in hearty, healthy breakfast and lunch options. A perfect place to bring the family for brunch, or for larger crowds their catering trays are versatile and always a hit.
Recommendation: Nutella Pancakes

6. Rosalita's Roadside Cantina (4.1/5)
Rosalita's provides a vibrant and exceptionally well decorated eating environment to pair with their selection of authentic Mexican dishes. What stood out to me most was the pride they take in sourcing their foods and produce from high quality, healthy locations. This, in combination with the eye-catching decorations and rowdy jovial environment makes it a great Friday night location to grab a drink with friends.
Recommendation: Chicken Enchiladas
7. La Cashina (4.4/5)
A family run Italian eatery, La Cashina got its start in 1994 with the Chilelli family's commitment to authentic Italian cuisine. Cascina translated from Italian means "the farmhouse", and the Chilelli family is sure to maintain the tradition of locally sourced cuisine which makes this place so good.
Recommendation: Chicken Balsamic

8. Anemos (4.4/5)
This lively restaurant in Manalapan brings all the best Greek and Mediterranean flavors together into a cozy, authentic restaurant. "Anemos", derived from its Greek root word, means wind. The nautical theme of the restaurant is captured in the atmosphere and in their special fish display which showcases fresh selections straight from the sea. This restaurant is perfect for both business lunches and special dinners, and they offer catering. Reservations are not required, but take note: they are closed on Mondays.
Recommendation: Rofos Sto Katsaroli (Baked Grouper)

9. Masala Kitchen (3.7/5)
Masala Kitchen is an excellent authentic Indian food restaurant offering up both vegetarian and non-vegetarian Indian food with a Western twist, as well as excellent handmade desserts. Masala is a Hindi word for spices, and Masala Kitchen always delivers when it comes to spicy foods. Conveniently located right near Costco, Masala Kitchen is a great place to stop into for a bite after shopping. For a limited time, they are offering 50% off of purchases at lunchtime. Try it out!
Recommendation: Chicken Tikka Masala

10. Anthony's Coal Fired Pizza (4.0/5)
98 U.S. 9, Englishtown, NJ 07726
(732) 780-2625
https://acfp.com/menu/
Everyone likes pizza. Anthony's Coal Fired Pizza is the best pizza place in town by far, whether you're just picking up a slice or dining in on a whole pie. They make their dough fresh every morning, cover it with fresh delicious toppings, and bake in their signature Coal Fire Oven for a pizza that's crispy and satisfying. Beyond the pizza, Anthony's offers traditional Italian dishes, lunch sandwiches, and a bar with great ambiance.
Recommendation: Square Margherita Pizza